Rallies quickly escalated Friday night in Phoenix after a vigil for Dion Johnson, a man shot and killed by DPS earlier this week. It was the second night of demonstrations downtown, following protests for George Floyd, a man that also died in police custody this week in Minneapolis.
Video from the scene shows some protesters breaking windows and lighting off fireworks at the Arizona Federal Theatre, as well as at other downtown buildings. Other protesters can also be seen shattering windows and vandalizing Phoenix police vehicles.
According to Phoenix police, around 9:45 p.m., members of the crowd started throwing bottles at officers and starting small fires. At that point, officers made multiple announcements for the crowd to disperse.
The activity escalated to fireworks, graffiti and other damage caused to multiple city buildings and businesses between the areas of 7th Avenue and 7th Street. Nick Ciletti✔@NickCiletti
The Arizona Federal Theatre had several windows smashed last night. This is what it looks like this morning @abc15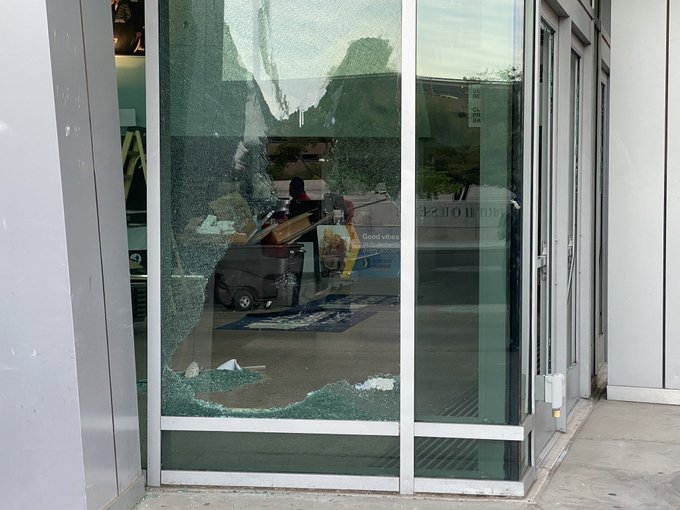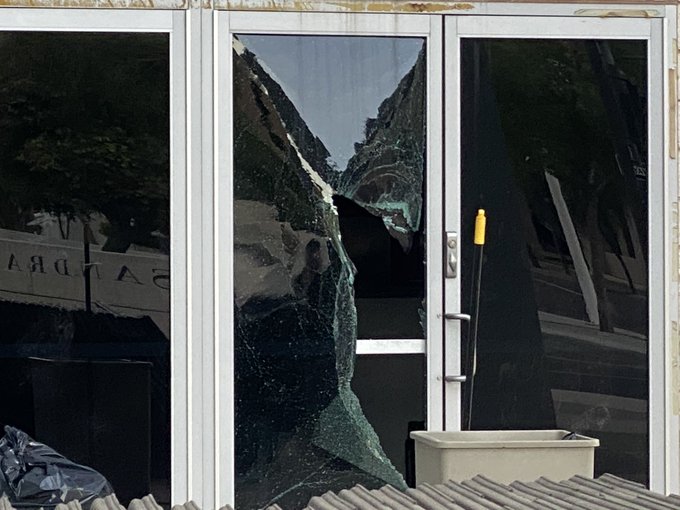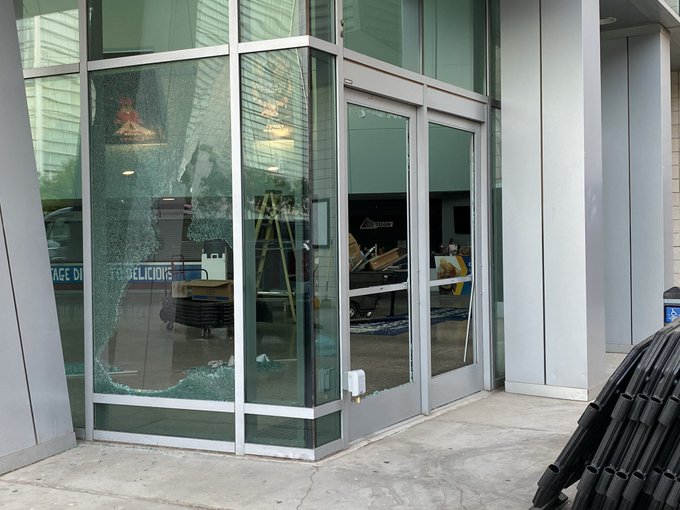 14Twitter Ads info and privacySee Nick Ciletti's other Tweets
Eight fully marked police vehicles had windows shattered and tires slashed, and one was almost lit on fire. Eight officers were assaulted by objects thrown at them.
Police arrested two people, 44-year-old Michael Lane and 36-year-old Andrew Givens.
Lane was arrested for rioting, criminal damage and unlawful assembly. He admitted to breaking a police vehicle window Thursday night and throwing a bottle Friday night. Givens was arrested for aggravated assault on an officer, resisting arrest, unlawful assembly, and possession of narcotics.
US Marshal David Gonzales posted on social media Saturday morning that damage to the Sandra Day O'Connor Federal Courthouse was estimated to be about $300,000. He posted a photo of graffiti to one side of the building, and noted broken doors, planters, glass and other vandalism.
"I understand protesting and demonstrating, but this is disgusting and unacceptable," Gonzales said in his online post. Zach Crenshaw✔@ZachCrenshaw · Replying to @ZachCrenshaw
BREAKING:
Police are moving the protestors.
Firing tear gas. Pepper bullets.
Crowd is in full retreat.
Dozens now throwing water bottles and fireworks at officers in riot gear.
There's been significant vandalism of the Sandra Day O Connor & FOX10 buildings.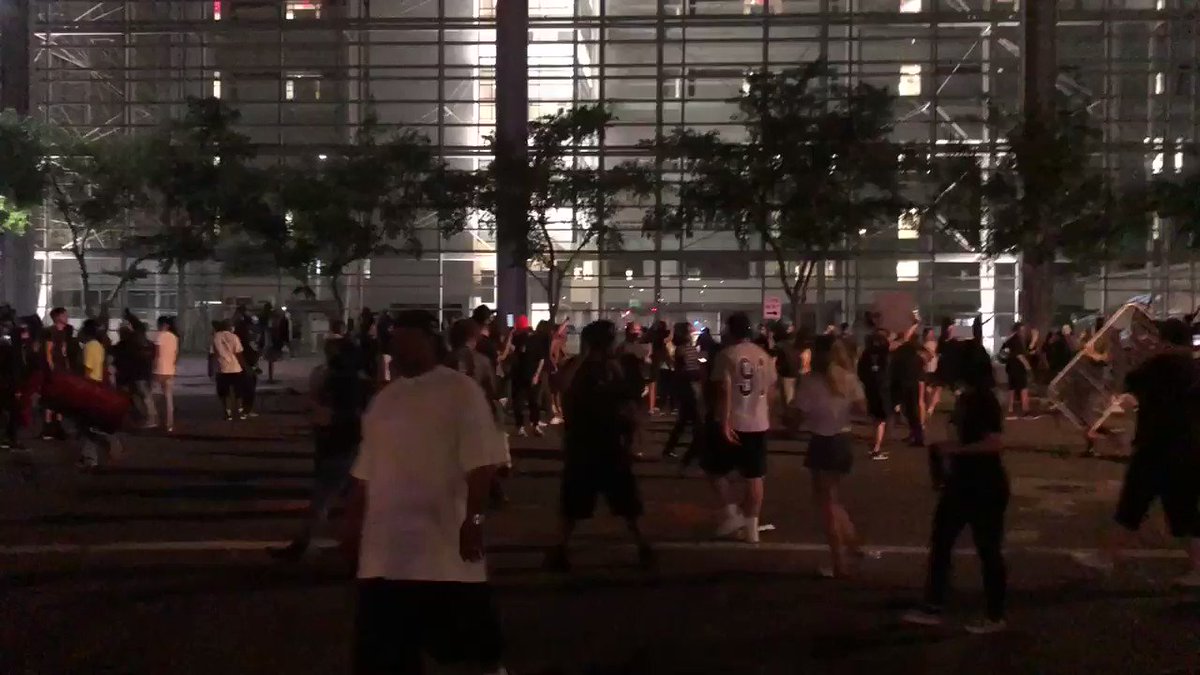 CHAOS:
At least 7 Phoenix PD cruisers had their front and rear windshields smashed and their tires slashed.
Multiple buildings had their windows destroyed as well.
Phoenix PD were holding the line & did not appear to catch any in the act @ABC15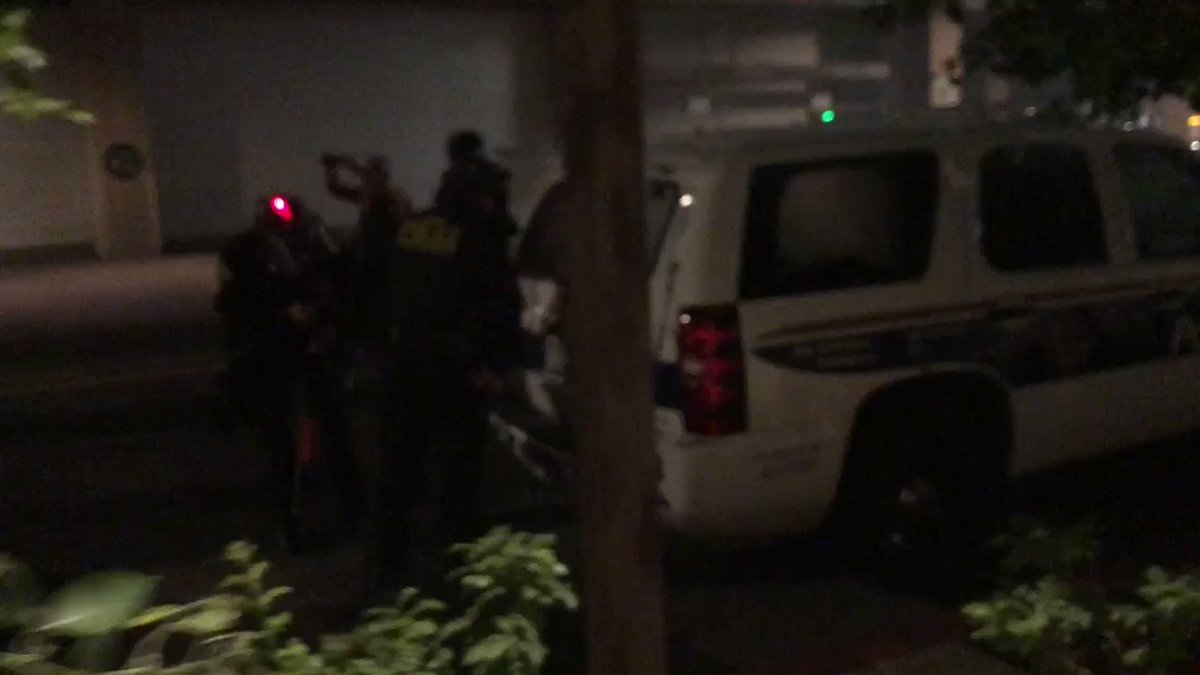 55Twitter Ads info and privacy44 people are talking about this